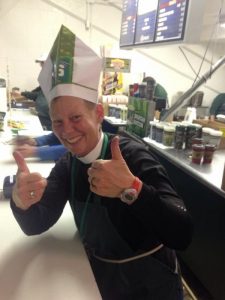 Priest Nikki Seger has served St. Michael's since Sept, 2014. Her goal as a priest is to encourage people to find or strengthen their own spirituality in a personal and meaningful way, and to find God in all things. Nikki is particularly happy to find herself planted at St Michael's where she can be found often in the St Mike's Community Garden or walking on the labyrinth.
Tackling a career change to ministry after managing a research lab and then, managing an MBA leadership program was only the latest in the ambitious quests Nikki has pursued. She has run the grueling 135 mile Ultramarathon in Death Valley – twice.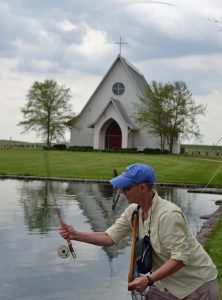 Today, when not ministering, Nikki loves to kayak and fly fish and further, loves to teach anyone who has the least bit of interest how to cast. She finds the connection between fly fishing and spirituality an easy transition. Annually, she conducts retreats for women who want to learn more about fly fishing, following up on the twelve years she spent professionally teaching the art of fly fishing to others.
Nikki received her undergrad degree from Louisiana State University (LSU) in Philosophy, and her graduate degree from The University of Iowa in Exercise Science (Biomechanics). Her Master's of Divinity is from Bexley Hall Seminary.
She and her wife, Jennifer, are parents to two wildly entertaining cats, Logan and Rosie. They have also just become dog parents to Deacon: a fun-loving, licking and life-giving Lab-mix puppy.
"As a priest, fly angler, runner and wife, I'm all about playing and praying. Relationship to others and God's creation fills me with joy and love. If I can share my passions, I am happiest."