St. Michael's Parish Life team focuses on people and fun.  At the heart of our church, we have a community of people with big hearts and a hunger to gather.  We  offer several fun and exciting activities throughout the year!
CHILI COOK-OFF!
Parish Life will host a Chili Cook-Off during the March Potluck.  Join us Sunday, March 17, 2019 after the 10:30 a.m. service to show off your best chili recipe!  Sign up sheet is in the Narthex.
LUGNUTS – MARK THE DATE!!!!
Family Faith Night at the Lansing Lugnuts will be June 14, 2019 at 7:05 p.m.  Fireworks will follow the game.  Mark the date and plan to attend this fun event!
Shrove Tuesday Pancake Supper was on Tuesday, March 5, 2019.  Great food and fun was had by all.  Thank you to all our wonderful, hard-working volunteers!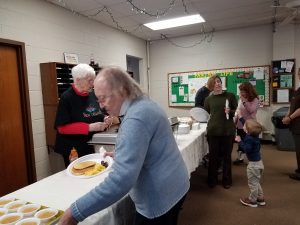 Join the Parish Life team and the people of St. Michael's in one or all of our exciting gathering opportunities!