The Adult Education team is amidst another exciting year with opportunities to share our stories, learn new insights, and grow together.
UP NEXT IN OUR STUDIES:
A Great Cloud of Witnesses – We will begin our first electronic version of study with this study  of classic and contemporary men and women who provide great examples for us today.

Watch the video below to learn the wonderful story of Tabitha! 
And remember the question:
What will you do this week to help others in need?
SCHEDULE FOR THE YEAR:
BIBLICAL WILD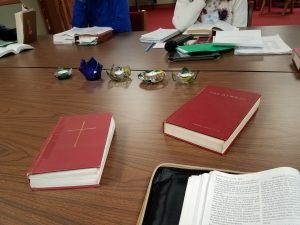 This is an award-winning bible study leading us through the bible. This year, we are studying I Timothy through Revelation. Each week, we watch a short, five-minute video followed by discussion questions and reflections on the weekly readings. Join us on Sunday mornings at 9:05 a.m. for great conversations!